Summer Display Props and Ideas

Polystyrene 2d and 3d balloons, polystyrene clouds and poly flowers.
Ideal for spring / summer window displays and event theming.
All available in plain, painted or glitter finish.
Please click on the photos below for enlargments, and more info.
If you owuld like further information please call the studio on
029 20 60 21 90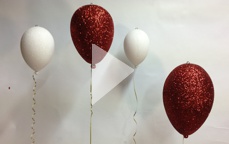 < Video of red and white / frost glitter
balloons. These are available in a wide range of colours, and sizes.
Click image to paly.
Round and heart shape balloons are also availalbe.